Schlingensiepen, Jenkins duel over economy, health care and campaign finance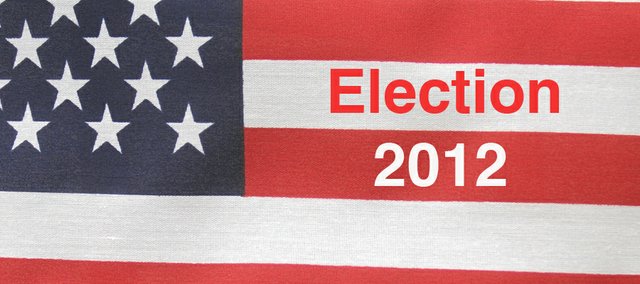 EUDORA — Democrat Tobias Schlingensiepen and Republican U.S. Rep. Lynn Jenkins dueled Sunday over campaign finance, health care and the economy in their first face-to-face debate.
The two, who are both from Topeka, are vying to represent the 2nd Congressional District, which includes Lawrence and much of eastern Kansas.
Schlingensiepen, a minister, said if elected, he would fight the "fund-raising circus that puts members of Congress in debt to wealthy corporations."
He proposed limiting the amount candidates could raise for each election to $250,000 and a five-year waiting period before a person who leaves Congress could work as a corporate lobbyist.
He said Jenkins has taken $618,000 in campaign contributions from insurance, banks and financial companies while voting against regulations of those interests. In the past, he has noted Jenkins' vote against the Dodd-Frank Wall Street Reform and Consumer Protection Act, which was signed into law by President Barack Obama in 2010.
Jenkins, who is seeking her third two-year term, criticized the Dodd-Frank law as hurting small banks, which, she said, were not responsible for the failures of Wall Street.
She blamed the nation's economic woes on Democrats and their desire to grow the size of government. When Obama was elected and Democrats controlled both chambers of Congress "it was a different, big government agenda every stinking day," she said.
Jenkins said the country needs an overhaul of the tax system. The current system is too complicated and picks winners and losers, she said.
Schlingensiepen said he supported extension of the wind energy tax credit, and providing job training support to vocational-technical schools, community colleges and universities.
Jenkins said she wants to repeal the Affordable Care Act, and said Schlingensiepen supports a single-payer system of health care.
Schlingensiepen there are many good aspects of the ACA, such as the provision that says insurance companies will no longer be able to deny coverage because of pre-existing conditions, but that the law fails to hold down the cost of health care. He said putting everyone under a Medicare type system would be logical, but not politically possible.
Schlingensiepen said the Medicare overhaul proposal that Jenkins has voted for would increase the cost of health care by more than $6,000 per senior citizen.
But Jenkins defended the plan as necessary to keep Medicare from going bankrupt.
The debate on Sunday was sponsored by the Eudora Chamber of Commerce and Eudorareporter.com. it was held in the Eudora Middle School.