Athletes to watch: Part 2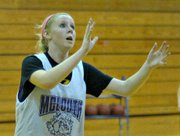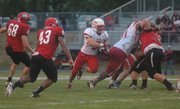 Editor's note: This is the second in a three-part series highlighting some of the top fall athletes at Tonganoxie and McLouth high schools. Each of these athletes played pivotal roles on their respective teams last season and are seemingly poised for even more success in 2013. This series will continue through The Mirror's Aug. 28 print edition. Athletes are listed in no particular order. Click here for Part 1.
Cole Holloway, Sr., THS football
In his first full season as a varsity starter, Holloway made his presence felt early and often against opposing defenses. After missing nearly all of his sophomore season with a leg injury, the running back burst back onto the scene last season with a 200-yard, three-touchdown performance in last year's season opener against Lansing.
Offensive production never ceased for Holloway, who racked up 1,271 rushing yards to become Tonganoxie's first 1,000-yard rusher since 2009. He was especially good late in the season, combining for 412 yards and three scores in the regular season finale against Basehor-Linwood and playoff opener against Atchison. In total, he had six games of more than 100 yards, including five of the final seven contests.
Holloway joins seven other returning offensive starters on a team that now has a year of familiarity under coach Al Troyer. The added experience should lead to even more production for Holloway, who finished second in the Kaw Valley League in rushing a year ago.
Drew Cerny, Sr., MHS football
Cerny played key roles on both sides of the ball last season, helping McLouth to its best regular season record since 2005. He combined for 12 total touchdowns — six rushing, five receiving and one punt return — on an offense that scored less than 32 points just once in nine regular season games. He also made an impact in the defensive backfield, where he earned all-Delaware Valley League honors.
Despite splitting carries with 2013 seniors Dakota Cop and T.J. Crowell, Cerny had four games with more than 100 yards of total offense, all of which came in October. He also split receptions with fellow senior Nick McAferty, but all five of his touchdown catches were from at least 20 yards out. He also helped the MHS defense allow less than 10 points a game in the regular season.
With Cop and Crowell now gone, as well as six 2012 defensive starters, the Bulldogs will look for Cerny to play an even bigger role on both ends in his final high school season.
Sophia Wetta, So., THS cross country
Wetta made plenty of waves in her first high school season, earning six top-20 individual finishes last fall. She's one of six varsity runners back on a team now under the watch of coach John Tollefson.
Over the course of her freshman campaign, Wetta shaved more than two full minutes off her time. She started the season with a time of 18:37 at a home triangular, then recorded her best finish with a 16:13.53 in regional action at Bonner Springs. The latter was good enough for 13th place, making her Tonganoxie's only state qualifier. She placed 56th at the state meet in Wamego.
Wetta and her teammates took fourth at last year's regional, but with nearly the entire team back in 2013, there's reason to believe the Chieftains could make a push for state at season's end. They'll likely look to Wetta — the team leader in four meets last season — to lead the charge.
Angela Dailey, Jr., MHS volleyball
As far as wins go, McLouth's 2012 volleyball season may have left something to be desired. The team earned just three victories in 34 matches, but with a new coach and several new faces, growing pains were to be expected.
Dailey, the Bulldogs' starting libero, was new to a squad that had just three players with varsity experience last year. She started off strong, capitalizing on 70 percent of her dig attempts in five matches in the Jeff West Invitational, and continued to gain valuable experience throughout the season.
Dailey is one of several varsity players back in coach Kay Koch's second season, and that added experience will likely lead to more success in 2013 — both individually and in the win column.
Shane Levy, Sr., THS football
Several Chieftains made significant contributions to last year's surprise playoff run, but arguably no one had a bigger overall impact than Levy — particularly late in the season.
Levy made opponents pay all year in a multitude of fashions, seeing time at receiver, running back and defensive end. He led THS with 42 receptions for 60 yards and two touchdowns and added 70 rushes for 368 yards and three scores. Like Holloway, Levy was at his best down the stretch. He ran for a season-best 123 yards against Basehor-Linwood, then went for 102 more and three touchdowns against Atchison. His best receiving day came against Bishop Ward, when he caught six passes for 173 yards and a score.
Defensively, Levy finished fifth on the team — third among returning players — with 45 total tackles. He led the squad with seven sacks, including three against Basehor-Linwood.
Levy missed a game and a half with a concussion, so it's likely he could have put up even bigger numbers. If he can avoid the injury bug this year, look for him to cause even more problems for opponents throughout his senior campaign.