Tonganoxie residents voice concern about neighboring property
Use of shooting range discussed; library board member appointed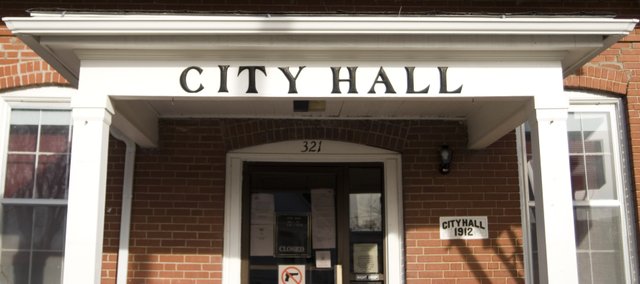 Tonganoxie residents near Washington Street are urging the city to address a property they say needs to be cleaned up.
Shirley and Meryl Tice spoke Monday to the council about a residence at 504 Washington St. Shirley Tice said there are several vehicles on the property and a full trailer in the yard.
"Is it a place of business? Auto repair?" Shirley said. "It's very degrading to the community. If the vehicles that are there are not operational, are they licensed? These are the questions we have."
City Attorney Mike Kelly said the case currently was in municipal court Thursday on nuisance ordinance violations. It had been continued until next month's municipal court date to answer legal questions the judge had posed, Kelly said.
Council member Bill Peak, who also lives on Washington Street, said the property has needed to be addressed for several years. He also voiced concerns about that residence affecting neighbors' property values.
Meryl Tice asked that the city also look into any zoning ordinance violations if a business is being operated out of the residence.
"There have to be some teeth in this thing and not a slap on the wrist," he said.
Kelly will meet later this week with City Administrator Nathan McCommon, Assistant City Administrator Jennifer Jones-Lacy and police chief Jeff Brandau to discuss the nuisance ordinance and how it might be strengthened.
Use of shooting range reviewed
A Tonganoxie resident has questioned use of the shooting range near the Tonganoxie Water Treatment Plant, but Brandau said police officers weren't using the range the nights the resident heard shots.
John Dowd, who lives near the shooting range, submitted a letter to City Hall voicing concerns about hearing shots from 9 p.m. to midnight on three consecutive days. He said in the letter he was disturbed by the noise nuisance. However, Brandau said at Monday's meeting that the noise didn't come from law enforcement usage at the range those nights. He said the secured range is used twice weekly on average and predominantly during the day. Officers also might shoot at dusk to maintain low-light proficiency, which Brandau said is a standard law enforcement skill. On a rare occasion, U.S. Marshals will use the range. Basehor police also have used the range, but not since last year, Brandau said.
Council members suggested that police create a log to offer record of the range's usage.
Library board member approved
Lisa Patterson has been named to the Tonganoxie Public Library Board.
Mayor Jason Ward nominated Patterson, whom the council approved, 5-0.
A longtime resident, Patterson lived in Tonganoxie from 1978 to 1991 and returned in 2003.
She currently is co-chair of the stewardship committee for Lawrence Memorial Hospital Endowment Association. She previously served on various United Way committees and was a two-term member of Douglas County's Court Appointed Special Advocates board.
Patterson replaces Amanda Altenhofen on the board. Altenhofen had to resign from the board after moving outside city limits. A city ordinance allows for two board members to live outside the city limits, but two current board members already live outside the city.
Other board members are David Frese, Sheryl Harman, Tabatha Regehr, Earleta Morey, Laurence Hill and Patricia Duvall. Ward serves as an ex-officio board member.
In other business, the council:
• Approved, 4-0, these payments: $23,456 to Blue Cross Blue Shield for August medical premiums, $26,430 to Kansas City, Kan., Board of Public Utilities for water purchase, $4,888 to Code Publishing for initial municipal codification and online database and $13,875 to Saltus Technologies for DigiTicket software, training and hardware. Tonganoxie police no longer will write tickets for citations. DigiTicket is an automated system that scans driver's licenses and prints out tickets. Council member Andy Gilner arrived at the meeting after the vote.
• Met for 10 minutes in executive session with McCommon, Jones-Lacy and Kelly to discuss real estate acquisition. No action was taken.