Leavenworth County undersheriff reflects on long career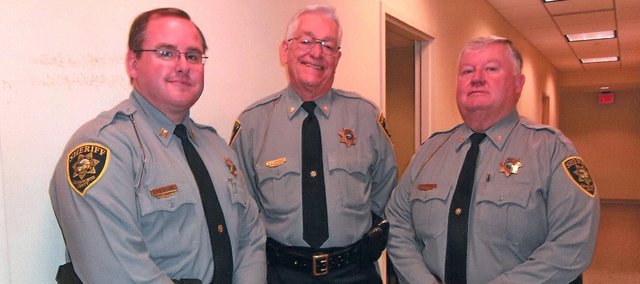 After more than 47 years in law enforcement, Ron Cranor has his share of stories to tell — including his involvement in the execution of Richard Hickock and Perry Smith.
The men were hanged in Lansing for the murders of members of the Clutter family in Holcomb.
Cranor worked for the Kansas Highway Patrol and was assigned to Leavenworth at the time.
Cranor said he was asked to stand outside the prison "in case of any trouble" alongside two or three guards who worked there.
"I remember the hangman driving up in a big old Cadillac," Cranor recalled.
Cranor's career went from working for the Kansas Highway Patrol to eventually serving in the Leavenworth County Sheriff's Office as undersheriff for several years. This past month, Cranor, who is 76, stepped down as undersheriff.
Originally from Kansas City, Kan., Cranor said that some might consider working in law enforcement dangerous, but he said he was proud to serve for several years.
"I know for some people it's the fear factor — you could get shot doing that," Cranor said. "You also could walk outside the door and get mowed over by some moron, too.
"You do your best to protect yourself and don't worry about it. If you worried about it, you couldn't handle the job."
Cranor also helped catch someone listed on the FBI's Most Wanted List while working for the KHP in Iola. Another trooper happened to see the man and matched him with a photo.
"It was a fluke how we found him," Cranor said, noting that he received a letter signed by former FBI director J. Edgar Hoover commending him for his work.
Cranor started with the KHP in 1959, working his way up through the ranks and retiring in August 1990 as a major.
Two weeks later, Leavenworth County Sheriff Terry Campbell hired Cranor as undersheriff. When Herb Nye became sheriff in 1993, he retained Cranor as undersheriff.
He retired from that position in 1999 and a year later started work as a security officer in the Leavenworth County Justice Center. He worked in that position for four years.
As was the case before, Cranor didn't remain retired.
When Dave Zoellner started his first term as sheriff in 2005, he asked Cranor to return as undersheriff.
"Dave came knocking on my door," Cranor said. "Man, I'm an old man, why do you want me?"
Cranor served as undersheriff for the length of Zoellner's two terms as sheriff. Zoellner chose not to seek re-election in November and retired in January.
Cranor was the first undersheriff to serve under three sheriffs in Leavenworth County and had the longest tenure of any undersheriff in the county.
"I think he was a tremendous asset to the sheriff's office," Zoellner said. "I think he brought professionalism to the department. He brought knowledge, intelligence and fairness to employees."
Zoellner also likes to tell people that Cranor stopped Zoellner for failing to use his left turn signal in Leavenworth when Zoellner was 18. Zoellner likes to tell people Cranor issued him a ticket, but said it really was a warning.
"He pulled me over and scared me to death," Zoellner said. I thought my whole law enforcement career was over."
The former undersheriff says he doesn't remember pulling Zoellner over.
"He's exaggerated that story so bad, I'm not sure what's truth and what is fiction," Cranor said.
Cranor also served on the Tonganoxie City Council from 2003-07 "because it was my civic duty."
The former council member said he joined the council because of concerns with some of the decisions being made in local government. For instance, he said he didn't favor the placement of a traffic light at North Star Drive and U.S. Highway 24-40 because he thought the light should have been installed a block to the east at Main Street and U.S. 24-40. The light later was taken out and a signal was installed at Main Street.
He also pushed for council meetings to be electronically recorded. The meetings previously were not recorded.
"I think that I did have a voice in a lot of things because of my questions of why we did things," he said.
After 40 years of living in Tonganoxie, Cranor and his wife, Barbara, plan to move this spring to Montana. His wife always has liked the mountains and wildlife and they have friends in Montana, he said.
"I think I need someone to come along and fix my brain."
After many years in law enforcement, though, he is ready for his next chapter.
"I know there will be a lot of aspects of living here and living in the Kansas City area that we'll both miss," Cranor said, including family. "But like Barbara puts it, this is a challenge. Instead of just going with daily ritual of life, we're making a challenge out of this."