Kansas amputee shuns self-pity, shoots for Paralympic gold
Wichita — Liz Willis lost her left leg below the knee almost five years ago and she considers herself lucky.
There's no self-pity, no wallowing. In fact, Willis, who lives near Augusta, is an upbeat mother of a 4-year-old boy who cannot be kept down.
And it's that young child, Calum, who drives her as a sprinter as she leaves this week for the Paralymic World Games in Doha, Qatar, and hopes to qualify for the U.S. Olympic team next summer that will compete in the Rio de Janerio Paralymic Games.
"I really want that," Willis said. "I want to go to the Olympics. That's my goal."
Now, here's why Willis thinks there's a guardian angel watching down on her: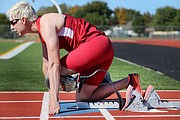 Before she gave birth to Calum on Dec. 2, 2010, she had felt nauseous for several weeks with what seemed like endless vomiting and diarrhea. At first, she said, her doctors told her she was going through a difficult pregnancy.
But it was more than that. Her legs, she said, felt like they were on fire.
Her son was delivered via an emergency C-section. Three days later, doctors determined Willis had undiagnosed Crohn's disease that had damaged her large intestine, causing internal bleeding. It caused a blood clot to form in her leg, which made amputation necessary.
Her son survived, although his heart rate decreased to a dangerously-low level. And, after being kept unconscious for 10 days to help her through pain, Willis was alive, too.
"The way I looked at it was that I could either lose a leg or die and never meet my son," Willis said. "Every day is a blessing to be alive. I don't mind losing a leg because it means life for me and the chance to be a mother. It wasn't hard to lose a leg."
Willis' courage doesn't stop there.
A distance runner in high school at Sterling, she didn't want to give up running. But she was advised that distance running would be too difficult because of her physical condition.
Her coaches asked her about taking up sprinting.
She almost walked out on them.
"I didn't know how to sprint," Willis said. "I called up my high school cross-country coach and said, I have a dilemma here. I don't know what to do.' "
Eventually, Willis, a former elementary school teacher who is now a part-time para educator, became convinced that sprinting was her only option. So, without reluctance, she learned how to sprint.
She changed her diet. She worked on strengthening her core muscles. And she tried to figure out a way to become quicker out of the blocks, probably the biggest challenge of all.
"Typically, a distance runner doesn't become a sprinter," said Willis' coach, former Southwestern track standout T.J. Harris. "Even for someone who isn't an amputee, that doesn't happen because of energy systems and things like that. But Liz is a ball of fire. She's a freak of nature in some ways."
It took a while, Willis said. Her first year as a sprinter in 2014 was nondescript. But she's taken off like a lightning bolt — if not quite like Usain Bolt — this year, becoming one of the best sprinters in the world.
Willis competed in England and Italy this summer with the U.S. Paralympic track and field team and will leave for the Olympic training center in Colorado Springs for a two-week stay three days after she returns from Qatar.
She's all-in on her quest to make the U.S. Paralympic team and thanks her husband, Buddy, and everyone else who supports her. She practices two hours a day in the gym and at least an hour on the track. Six days a week. Her acclimation to sprinting has come faster than anyone expected — she's already among the top 10 in the world in the 100 meters for below-knee amputees, Harris said.
"She's highly motivated," Harris said, "and that's something you can't coach. I ask her to do something and she does it. Sometimes I have to say, 'No, no, no, that's too much. Go sit down somewhere.' And that's rare in any athlete."
Harris needed running, though, more than it needed her.
After the amputation, she became addicted to pain medication and that became more of a threat to her well-being than losing her leg. Coping with the pain was difficult, though, and taking pills is the only way she knew of to stave off the anguish.
"They put me on morphine, codeine and Percocet all at once and they give them to you by the bottle," Willis said. "So trying to wean myself off of all that was very difficult and codeine was the most challenging."
She talked to her pastor, who suggested a 12-step program and a replacement behavior.
What better replacement behavior than running, something was familiar with and has once again poured herself into? A bonus? Willis has been off of narcotics for just over a year, she said.
"One of the biggest things that helped me was all of the community support after I had my amputation," Willis said. "My mom came and lived with me for six months. My husband was great. There was a fundraiser in August and another fundraiser in Sterling and seeing how much people who I didn't even know could rally together to help me — my gratitude was just so much that I couldn't even be sad. You realize there are really good, compassionate people in the world, so you just want to pay it forward."
The only frustration Willis felt was not being able to be a normal mother to her newborn. She couldn't make bottles, couldn't get up when he started to cry.
That seems like a long time ago. These days, Willis is sprinting toward, she hopes, Rio as a mother, wife and Paralympian.