Tonganoxie Planning Commission to hear proposals today for luxury
RV

, new Casey's store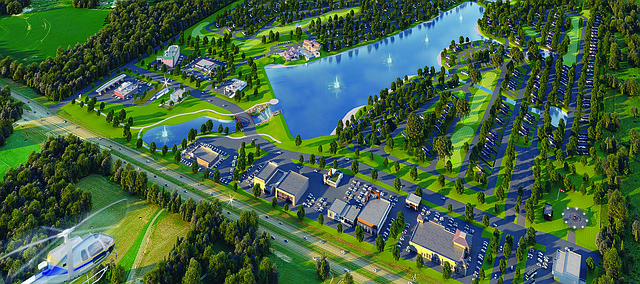 The Tonganoxie Planning Commission will decide whether to approve plans for two projects that could have major implications on the Tonganoxie landscape.
The commission will meet at 7 p.m. Thursday in Council Chambers to decide whether to approve plans for a proposed luxury RV resort just east of Tonganoxie and a new Casey's General Store south of the U.S. Highway 24-40 and Kansas Highway 16 intersection.
Hoefer Wysocki Architecture, along with Red Circle Development are proposing the luxury RV resort and adjacent retail development, respectively.
The resort portion of the development would be an estimated $30 million project completed in two phases and would be the only of its kind in any direction for 700 miles. The gated community would be open to luxury RV owners who lease varying levels of spaces, some that come with small cottages. A private golf course also is planned.
As for the retail district that would border U.S. Highway 24-40 near 206th Street, Todd Kane, who has ownership in Red Circle Development, said at an informational meeting last month that a hotel, convenience store and a luxury RV repair business were some of the businesses planned, with the possibility of a small grocery store another possibility.
Zach Stoltenberg, an architect with Hoefer Wysocki, is involved with the project and also is on the Tonganoxie Planning Commission. He will have to recuse himself from the process Thursday as it pertains to his project.
The development, known as Lakeside Luxury RV Resort, would be on the north side of U.S. Highway 24-40 east of the Stone Creek subdivision on the east side of Tonganoxie.
Proposals for the development call for 160 acres to be developed in phases for the private RV resort and then retail businesses that front U.S. Highway 24-40.
Stoltenberg said 206th Street would be extended to the north and a traffic light added to the intersection improvements if the development came to fruition.
Developers currently are not asking for any tax incentives for the development.
Kane also has ownership in Kane Family Farm, which is just south of Tonganoxie on the west side of U.S. 24-40. The informational meeting about the RV and retail projects took place at the farm, which is an event venue. Plans for that businesss call for an outdoor pool and lodging that customers can rent out for events.
New Casey's plans
A new convenience store for Tonganoxie, if approved, would be built south of the southwest corner of U.S. 24-40 and K-16.
The first Casey's in Tonganoxie was at the northwest corner of U.S. 24-40 and K-16 where Richard Dean and Katie Volk have their optometry office now. A new Casey's was then built about a block north where the current convenience store stands.
The Tonganoxie City Council will make the final decision on the projects based on the planning commission's recommendations.