24-year-old tackles lifelong illness with determination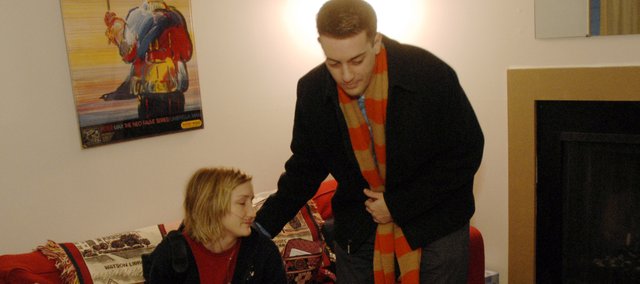 St. Louis — Donning a Green Bay Packers sweatshirt, blue sweatpants and pale pink house boots, 24-year-old Heidi Karn Barker sits in a quiet, one-bedroom apartment across from Barnes-Jewish Hospital where three weeks earlier she had a double lung transplant.
While Heidi no longer sports what she called an oxygen mustache, it's easy to see that the surgery has taken its toll. She's sore, tired and nauseated. An e-mail from her husband, Brad Barker, sparks a smile during the gray afternoon.
Her mother, Tracie Karn, of McLouth, and Brad take turns staying with Heidi about every two weeks. This week, it's mom's turn.
"It's difficult just seeing her in discomfort after the surgery and seeing her having to put her life aside in Lawrence and just seeing how much she misses Brad," Tracie said. "Just what she has been through physically, I can't even imagine."
But you won't hear Heidi complain. She simply focuses on getting better and talks about the positives in her life: the donation, the ability to breathe, family and friends. If she can keep a Popsicle down, she's grateful.
:::
Heidi was diagnosed with cystic fibrosis at age 18 months. Medications, tests, doctors and hospitals have been part of her life since she can remember. The life expectancy for those with the disease has grown to about 40 years. In 1950, it was less than 5 years.
"Lung failure is the cause of death in around 90 percent of patients," said Dr. Philip Black, director of the Cystic Fibrosis Center at Children's Mercy Hospital.
Those with cystic fibrosis produce a thick mucus that clogs up ducts in the lungs and in the pancreas. So, they get a lot of lung congestion, infections and disease.
Most, like Heidi, also have trouble digesting and absorbing foods.
"She's more severely ill than the average person her age," Black said. "She had a pretty severe case of it. In essence, all of them are severe cases because they shorten life, but on a scale of severity, her case was toward the higher end."
But Heidi tried not to let it slow her down.
"She's a very remarkable lady in that in spite of a fairly severe illness, she kept herself on track to finish college and had a job and got married and went ahead and pursued things that became available to her with a lot of courage," Black said.
According to family and friends, she has shown that same courage throughout the lung transplant process.
"She is just amazingly strong and brave and she was the most composed throughout all of this compared to anybody else in our family," Brad said. "She was just really focused. It was never a question of how would she do; it was just a matter of how soon can we get it done."
:::
Heidi began looking at her options about a year ago when her health started to decline. She switched from a full-time job to a part-time job at Kansas University so she could focus on breathing treatments. That helped, but not enough.
In July, she had an evaluation at Barnes Jewish Hospital to see whether she qualified for a lung transplant. She picked that hospital over ones in Denver and Houston because of its location, knowing that she would have to move nearby once on the transplant list. She also picked Barnes because it is one of the most active lung transplant centers in the world. About 900 lung transplants have been performed there in the past two decades; 47 were performed in 2007.
Heidi also liked its survival records for lung transplants. Barnes touts a one-year survival rate of 88 percent, and a three-year survival rate of 79 percent. Nationally, the one-year survival rate is 82 percent and the three-year survival rate is 62 percent.
She also was impressed with its mentoring program. She met two young women, like herself, who had undergone lung transplants.
"They were amazing," Heidi said. "I asked them questions like what does the scar look like and the girl said, 'Honestly, it is like a bad boob job.' I asked how much pain were you in and they said, 'It is a lot of pain but you wake up and you are breathing so much better that you hardly notice it.'"
She found comfort in seeing how well they were doing post-transplant, which was good because the evaluation determined Heidi met transplant standards.
But she and the doctors decided to wait.
"One of the trickiest parts is determining when to do the transplant," said Dr. Ramsey Hachem, pulmonologist at Barnes. "Five years after a lung transplant, survival is about 50 percent. So 50 percent of people live only five years after a lung transplant, and that's not good."
Doctors also don't want to wait so long that they jeopardize a patient's opportunity to get a transplant.
"They could die before they get the transplant," Hachem said. "So, it becomes a very tricky balance."
:::
As summer turned to fall, Heidi's condition worsened, and she stopped working in late October.
"I can't do what I normally would do, even things like going up and down the stairs is just really hard," she said during an interview on Nov. 1. "It takes a lot of time for me to catch my breath again. Just walking is kind of a chore and that affects speaking and all of that stuff.
"The reason I quit working now is because I am having such a hard time sleeping. When 6 o'clock rolls around and I have to get up and get ready for work, I am still exhausted."
One week later Heidi was re-evaluated at Barnes, where she endured several days of testing including a cardiac catheterization. They determined it would be a good time for her to go on the transplant list. Doctors also recommended that she use oxygen 24 hours a day.
"All we could really tell people when we came back is that they said we had a competitive score, so what I hope that means is that I am up there on top of the list, but I just don't know until that right donor comes along and matches all my criteria," she said.
Hachem said lung matches are based on blood type and body size. But, he added, fewer lungs are harvested from donors than any other organ because they are so susceptible to damage.
"For most deceased donors, only about 15 to 20 percent are suitable lung donors," he said. "About 80 percent are suitable for kidney donors."
Hachem also said lungs need to be transported within seven to eight hours from donor to recipient. However, a kidney can be kept without blood flow for up to 24 hours.
Luckily for Heidi, the transplant allocation system changed in 2005. Under the old system, those who had waited the longest received donations first. Today, the priority goes to those who are the sickest.
"Before, the waiting time was around two to three years and in some cases even longer," Hachem said. "If someone became ill quickly, they had no chance at receiving a transplant."
Although the allocation system has improved, he said there are still patients who die before a donation comes along.
:::
Heidi was in good spirits on the evening of Dec. 5 as she watched her friend Lissa Cramer pack suitcases for the move to St. Louis. Heidi joked about living with her mom again. She looked forward to mom's cooking, especially her baked steak smothered in a mushroom sauce, but wasn't sure they would see eye-to-eye on television shows and movies.
During the packing, one of Heidi's two beloved cats, Louie, jumped in a suitcase, which made them laugh. The other cat, Kink, who has a respiratory cough like Heidi, hung out in the other room.
"I will miss them," she admits.
Heidi and Brad joked about how she would call and ask about the cats before asking about him.
:::
Early the next morning, Brad kissed his wife goodbye and went to work at KU, where he is an accountant in the Law School. He planned to visit every other weekend until the transplant. Then, Heidi watched as her dad, George Karn, made about 20 trips up and down the stairs, filling two vehicles with suitcases, bags and oxygen tanks - three big ones and 15 small ones.
"You can do this when we return," he joked.
"I will do it, gladly," Heidi replied.
Once the vehicles were loaded, Heidi slowly went down the stairs and out into the cold air. She climbed into the front passenger side of dad's vehicle while mom followed behind in another car. Heidi figured she would get her fix of mom during the coming months.
"I am in it for the long haul," Tracie said of living with Heidi until the transplant.
:::
After settling in that day, the wait began.
Heidi didn't know whether the call would come in days or months; all she knew was the average wait for lungs was three months.
"The waiting was the hardest for, I think, everybody because that's what we couldn't control and we just had to be patient," Brad said.
To bide time, Heidi read, watched TV and e-mailed loved ones. She also went to rehabilitation at the hospital to help prepare her body for the surgery. Her mom cooked, cleaned, visited the library, watched TV, exercised in a nearby gym and wrote letters.
Celebrating Christmas with their immediate family provided a much-needed respite for Heidi and her mom. But then their wait continued.
Heidi's journal entry on Dec. 31 reads: "It's only noon. I've been sleeping more lately, partly because it feels better to just sleep and also because it makes the time pass quickly. But, unfortunately, it's coming to the point where it doesn't matter what I do, that time is slow."
Her mom said their situation reminded her of the movie "Groundhog Day," where a weatherman wakes up and finds himself repeating the same day over and over again.
:::
About 7:15 a.m. Jan. 4, Heidi awakened to the sound of her phone ringing. It was the call she had been waiting for.
"Mom, it's time," she said.
They notified the rest of the family, who quickly packed up and headed to St. Louis. Brad arrived just in time to see his wife before surgery.
The Rev. Scott Berry, of McLouth's First Baptist Church, also made the trip. Heidi grew up in McLouth and graduated from high school there.
"I just wanted to be there with the family, to pray with them and to try to pray with Heidi and be supportive and just remind them of the fact that God was in the thing and that God was there with them and that he had a plan," Berry said.
That morning, the church started a prayer chain for Heidi that grew to include many of the town's 850 residents. The community has raised thousands of dollars to help pay for Heidi's living and medical costs.
The surgery took about five hours. At one point, Tracie said, doctors put Heidi on a bypass machine.
"The hours just crawled," Tracie said.
Heidi's family was able to see her about midnight.
Thirteen days later, she was released from the hospital and feeling terrific. The next day, she walked a mile during rehabilitation.
"It felt great," she said.
That night, Brad fixed her a dinner of red beans, rice and kielbasa with biscuits. Although she was feeling nauseated, she finished her meal. Three hours later, she began vomiting and didn't stop until after being readmitted to the hospital.
She was released about five days later after doctors adjusted her medications. She continued to feel nauseated, sticking mostly to cereals and soups, until this week when she enjoyed a burrito bowl from Chipotle. It was her first "real meal" in some time. At 107 pounds, the 5-foot-7-inch Heidi has lost 13 pounds since the transplant.
"The first three months or so is the period of time where there's a lot of problems that can come up," Hachem, her pulmonologist, said. "Mainly, problems with getting along with the necessary drugs after transplant."
He predicts Heidi will make a full recovery and be able to go home in about two months.
"I think she's doing OK," the doctor said. "It has been a bit of a bumpy road early after the transplant, but I think those are things that are expected."