Rollover accident reported on 24/40 near Leavenworth County Road 1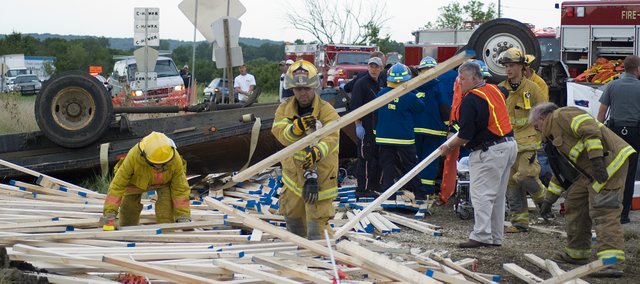 Emergency responders were on the scene of a rollover accident in southern Leavenworth County Monday afternoon involving a Schmidt Builders Supply Inc., truck that was hauling lumber.
Mark Metcalf, a sergeant with the Leavenworth County Sheriff's Office, said the accident occurred around 4:13 p.m. at U.S. Highway 24-40 near County Road 1.
"It is unknown why the individual left the roadway, but we have been able to determine that he left the east side of 24-40 highway." Metcalf said. "As he tried to get back onto 24-40 highway he lost control, overturned and was trapped inside the cab."
The extent of Jody Walter's injuries were unknown, but Metcalf said the 38-year-old Effingham driver was breathing and responsive.
The road was shut down in both directions as crews tried to remove the lumber from the road.
Emergency workers transported Walter to a LifeStar helicopter that was called to the scene, but the helicopter was unable to take off. The driver was then transported to University of Kansas Hospital by Leavenworth County EMS.
On Tuesday, hospital officials said Walter was in fair condition.
The rollover marked the second accident at the intersection in a week.