City prepares for a state-of-the-art water park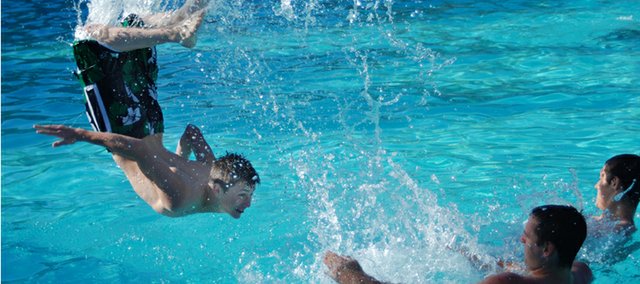 As construction workers scramble to put the finishing touches on the new Tonganoxie Water Park, city officials are planning a grand opening event Saturday, June 14 in conjunction with Tonganoxie Days.
Walk-through tours are planned to begin at 1 p.m. following a ribbon-cutting ceremony, and Annie's Country Jubilee Band is scheduled to perform from 2 p.m. to 3:30 p.m., but it is yet to been seen whether local swimmers will actually be able to plunge into the new pool in less than two weeks time.
"We're trying really hard to have swimmers in by the 14th," city administrator Mike Yanez said but added that a contract deadline with Lenexa-based Prosser Wilbert Construction Inc. isn't until July 1.
Gary Davis, project manager with PWC, said after a midday thunderstorm Monday, "We're not getting much help from the weather."
Davis said an unpredictable winter and springtime showers have left construction crews with concrete work, fencing and landscaping to complete.
The pool itself is finished, though, he said, noting that workers started filling it with water on Friday. But he added that it often takes two or three weeks for the water to fully stabilize.
"Like the city, we're asking everyone to stay patient," Davis advised residents. "We want to get this thing done just as quickly as possible."
The $2.7 million project that began last September has been paid for out of a three-quarter-cent sales tax that was approved by voters in April 2007 by a two-to-one vote.
The new pool will feature a zero-depth entry, six swim lanes, two diving boards, two water slides, a separate toddler pool and spray ground area and will be handicap accessible.
"This is going to be one heck of a facility," Yanez said, adding it is about 40 percent larger than the former Chief Tonganoxie Pool.
"I think the people of Tonganoxie have been watching this thing go up all winter and the excitement is really building," he said