Homecoming hero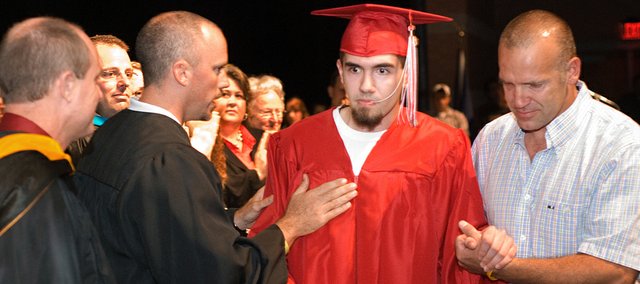 Traditionally, homecoming week at Tonganoxie High School is packed with events geared to fill students with school spirit.
But this year, one particular homecoming event filled the school to the brim with Chieftain pride: Austin Stone was coming back to get his diploma.
"It means a lot to me," Stone said about having the entire student body present for his special graduation ceremony Thursday. "It does a lot of good for me."
Last March, Stone was hospitalized after complications arose from medical gas he received while having his wisdom teeth removed. The incident left him blind, hard of hearing and has caused problems with his speech. It also left his time at THS incomplete because he wasn't able to graduate in May with his class.
Stone's father, Lance, did attend Commencement ceremonies in May and accepted his son's diploma. But he returned it because he wanted his son to have that opportunity.
"When his dad walked across the stage – no offense, Lance – that just wasn't good enough for us," Jamie Carlisle, THS principal, said Thursday. "We just wanted Austin to do it for us."
About a week ago, Austin Stone returned home from Madonna Rehabilitation Hospital in Lincoln, Neb.
Plans were made in secret to give Stone the graduation he never had. On Thursday, students thought they were going to be a part of a homecoming assembly at the Tonganoxie Performing Arts Center – until they saw their teachers walking down the aisle in their graduation gowns, followed by Stone.
Stone was wearing a red graduation gown and mortarboard, and his father was at his side guiding him to the stage.
Some students cheered; some students cried. But all students were on their feet, giving Stone a thundering ovation.
Lance Stone said his son is still recovering but doing better than expected.
Now that he has his diploma, Stone said he has plans to attend South Dakota State University and study wildlife biology.
His friends have no doubt he'll attain his goals.
"He can get through anything he wants," said DJ Lindsay, one of Stone's close friends. "He might not be big, but he's the toughest guy there is. Nothing is going to bring him down."