Morey reflects on years of Tonganoxie library involvement
Retirement reception is Wednesday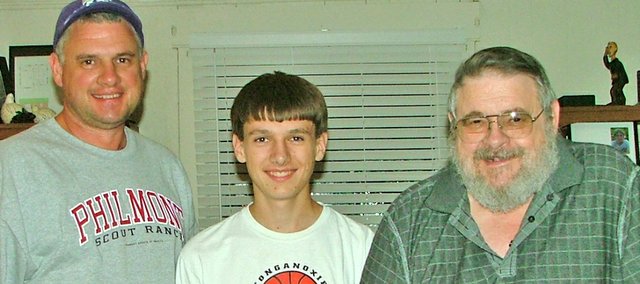 Jim Morey's relationship with the Tonganoxie Public Library started when he was just 8 years old.
"I've had a profound love and interest since the time I was a little kid," he said. "I can remember very clearly picking up my library card. I was 8 years old and was really proud of that."
This week, Morey will celebrate the culmination of his career at the library.
A retirement party for Morey will run from 4:30 tp 6:30 p.m. Wednesday at the library, Third and Bury streets.
Morey worked for 10 years on the library staff.
He previously served as library board president. His wife, Earleta, and mother, Ethel, also served as library board president.
"I did everything at one time or another," Morey said about his last decade working at the library.
He served as catalog clerk, worked at the front desk, tended to special projects and genealogy and then worked on adult programming at the end of his library career.
Morey served two terms on the library board.
"It gave me a real good insight as to how the library worked being at both ends of it," Morey said.
A 1956 Tonganoxie High School graduate, Morey now lives in his childhood home.
After high school, he joined the U.S. Navy, serving as an aerial photographer. After his military service, he worked as a photographer in California.
A graduate of Mount San Antonio College in Walnut, Calif., Morey worked in the aircraft and space industry for Rockwell International. He assisted with building photography equipment for a space mission in the 1960s.
Morey later had companies that developed educational software in the agricultural field and then health care disciplines.
His last day at the library was earlier this month.
The longtime Tonganoxie resident said he was looking forward to Wednesday's reception.
"I've enjoyed it deeply," Morey said about his time with the library.